Zambia: Hippo Adrenalin, July 2003
Zambia Lodges

Properties visited:
South Africa: The Michelangelo Hotel, Sandton, Zambia: The River Club, Livingstone, Mwambashi: Lower Zambezi National Park, Mfuwe Lodge, Chindeni, Billimungwe, Chamulandu: South Luangwa National Park

It has been twelve years since we started International Ventures, Ltd. In that time we have been on safari a number of different ways: in Landrovers, mini-buses, on foot and on horseback, but for the most part it has been game drive, game drive, game drive. This option is still the best for maximum animal sightings and photography, but we have reached a stage where we want more activity and above all, exercise. So that when we get home we will feel as though we are in better shape then when we left. We found the perfect solution for a more active safari when we re-visited Zambia. A dose of hippo adrenalin helped keep the blood flowing too!

Our trip started once again with South African Airways NYC - Johannesburg flight. We arrived at 4 in the afternoon and were met by our smiling guide, Terry, from Thandeka Africa who quickly took hold of our luggage, whisked us to the parking garage and off to the Michelangelo Hotel in Sandton - a quick 40 minute drive. It was worth getting away from the airport for some fresh air and the chance to walk around the palazzo behind the hotel. The Michelangelo is a small luxury hotel with impeccable service and beautiful, quiet rooms with marble bathrooms, Greek columns and a choice of 6 or 7 restaurants within safe walking distance nearby.

The next morning, Terry picked up again at 7 AM (which gave us a full night's sleep) and took on a short sightseeing detour (avoiding the morning rush hour traffic) past Nelson Mandela's house, the Alexandra township back to the airport for our 8 AM check-in.

Our first stop was Livingstone, Zambia to see Victoria Falls from the Zambia side. High water occurs in May and June, so we witnessed the maximum flow over the falls which turned out the be the highest in several decades. We have seen Vic Falls a number of times, but never so powerful. This stopped us from white water rafting, but otherwise made for spectacular viewing (and photography) which we did on foot and by micro light (the best way to see the falls, Zambezi River and both Zimbabwe and Zambia side - all at the same time). We decided if we had stayed a few days longer, we may have even jumped off the Victoria Falls Bridge by bungee, an 111 meter drop the bottom of the gorge, but 3 days was not enough to get us into the bungee spirit. We will have to go back for that.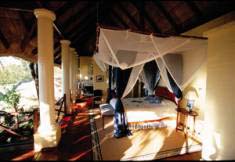 Our choice of accommodation was the stunning River Club on the shores of the Zambezi River.
We stayed for 4 days and 3 nights which allowed us to do all of the falls activities as well as horseback riding and a visit to a local village. We found it well worth the 3 nights there to begin our trip, not only recover from jet lag, but also spend ample time near and around the falls. Besides just being at the River Club, our highlight of this stay was on the morning we left. We were taken to a nearby island for a bird walk and on the boat trip back, saw a breeding herd of elephants on the Zimbabwe side, which numbered well over 100.
If all you want to do is zip up from other points in Southern Africa to see the falls, you have two hotel options right near the falls. The 5 star Royal Livingstone and the 3 star Zambezi Sun (sister properties). Both are large, catering to groups but the location cannot e beat, within a golf-cart ride to the falls. But beware, the days are filled with helicopter and fixed wing flights over the area, so there is the constant drone of air traffic.
If you prefer smaller properties, peace & quiet (our choice) then about 1/2 hour from the falls you can choose between The River Club , Tongabezi - where we stayed in 1996 (still very nice), Sussi & Chuma or further upstream the Islands of Siankaba. There are a few other properties, but we did not have time to see them and feel with the choices we have visited, there are plenty of options.

After a good rest with our days completely full of fun and action, we headed back to the Livingstone airport for our charter flight to Jeki airstrip in the Lower Zambezi National Park. Our 1 hour 45 minute flight took us over the falls, down the Zambezi river, down the length of Lake Kariba and into the park. As we reached the airstrip, our Pro-Flight pilot did a swooping fly-over where we spotted elephant, buffalo, hippo and waterbuck. To top it off, our hosts James & Colleen were there to meet us with smiles and cold drinks. It was a short 10 minute drive to the camp. The perfect start to our safari.
Mwambashi Camp is the ideal base to explore this remote part of the park. In our 4 day / 3 night stay we went on game drives, walks and the highlight - a 6 mile canoe trip through one of the many channels that come off the Zambezi River.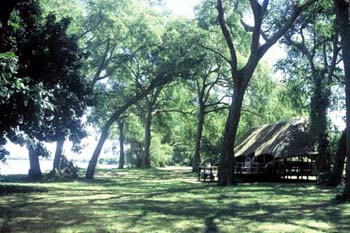 We have not been on a canoe safari before, but are now complete converts and will for sure do it again. It was an amazing way to get close to the animals, gliding along quietly, only to come around the corner to a pod of hippos where quickly nerves and reflexes jump in to action. We began to crave this rush of hippo adrenalin. One quickly learns to watch for them and anticipate their movement. Our guide, Garth, seemed to know them individually and taught us tremendous respect for these mammoth animals, but at the same time not to panic and be afraid. OK, I did panic once when we ran into a submerged branch, fleeing what I perceived to be a hippo on attack, but we soon freed ourselves and glided safely past, my calm quickly returning.
We floated past groups of elephant, bushbuck, Cape buffalo, crocodile, impala all the while surrounded by hundreds of birds. It is by far the most exhilarating and relaxing (at the same time) safari experience we have ever had. After 6 hours of canoeing with several stops to get out and explore on foot, and a few Zambezi legovers, we were met once again by the smiling and refreshing James & Colleen with a full lunch set up on the bank of the Zambezi.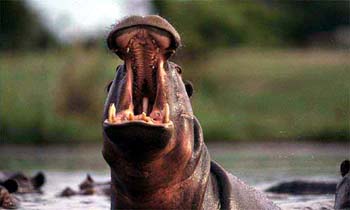 We saw lots of game from the canoe, but also did a number of game drives where we were able to photograph plains game, and the favorite of most - lions. Every day we saw lions and every night we heard their calls near camp. On our last day we tracked them all around our part of the park. We looked, low and high, tracks and scat everywhere - but for once - no lion? Finally after an hour we stopped for coffee and then tracked around some more. At last we spotted vultures circling behind us, but it was time to head back for brunch and our charter flight, so we retraced our steps to our coffee spot and there he was, a magnificent male lion stretched right out over Garths footprints where we had been 1/2 hour before. The big old boy must have been there all along.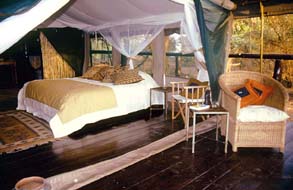 Our time in the Lower Zambezi went much too quickly. In the past, 3 days in a camp has usually been enough time in one area doing the standard morning and afternoon game drives, but here there are so many ways to explore, one could easily spend a week. Especially if you dont feel you have to rush off and see everything. It is all the more appealing with the fantastic camp staff and managers of Mwambashi.

NOTE: Next on our list of safaris is a 1920s walking safari offered by James. (visit http://www.vintageafricasafaris.com) We couldn't get enough of this park, and only explored one tiny section, so plan to return and explore it more in depth.

Sadly it was time to say goodbye and head back to the airstrip. We had already heard our small plane overhead and sure enough when we reached the dirt Jeki airstrip, there was another handsome young pilot (Ryan, this time) smartly dressed waiting next to his single engine plane, ready to whisk us away again . Next stop, Mfuwe airport gateway to the South Luangwa National Park.

NOTE: There are no giraffe in the Lower Zambezi National park. They never made it down the escarpment, so we recommend you combine this with another park, so you can see these lovely animals.

Our flight to Mfuwe took 1 1/2 hours in a single engine plane. We pulled up out of the Lower Zambezi Valley, over a small range of mountains down into the Mfuwe area, home to dozens of small villages. We landed on tarmac and were immediately met by Manda from Bushcamps who was to be our guide for the next 5 days and 4 nights. Manda was extremely knowledgeable on all aspects of the local culture, as well as the flora and fauna of the park. He also turned out to be an artist, something he recently discovered, and never tired of hearing about our travels and experiences.

NOTE: Mufwe is an international airport with flights coming in from Lilongwe Malawi (for those who might wish to visit the lake) In fact, Lilongwe is nearly as close as Lusaka, so easy to combine.

We set off down the road in the open landrover and nearly every person we passed waved and smiled. We didn't see another car for the next 40 minutes. The people moved about for the most part on foot and bicycles. Just off the road we could see everyone going about their daily village life, carrying water, cooking, washing, taking care of their children, making beer and working their small gardens. After 45 minutes we reached the park gate, signed in and a few minutes later arrived at Mfuwe Lodge (18 chalets) for tea. There are a number of small lodges, located in this area. For those who want a glimpse of the park (2 - 3 days) - this is where you would stay since the Bushcamps further in the park are hours away. There are a lot of loops around the park for game drives and right away we saw puka and large herds of zebras. We got some excellent pictures, since these animals are quite used to vehicles.

After freshening up at the lodge, we began our long drive to our first Bushcamp, Chindeni, 20 miles away. The further we got away from the main gate, the rougher the road became which made us feel better. We were a bit worried that our game drives would be around prescribed loops, but that wasn't the case at all. After just about 1 hour we were in the wild South Luangwa that I had always heard about and soon we saw our first of 2 leopards that we would see that night. (The next evening, we saw 3 more).

On that drive we saw leopard, white tailed mongoose, civet and quite often surprised elephant along the way. We had left the lodge at 4PM and arrived in camp at 9 PM, so we were all a little tired, but that was soon taken care of when we were met by Hana with a cold washcloth and fruit drinks, not at all expected in such a remote camp. We were soon to learn that "Bushcamps" has totally remade the definition of a "bush camp." Dinner was tender steak, fresh string beans and ice cold white wine and Mosi beer.

The icing on the cake that night was the 2 lions we heard calling one another throughout most of the night with the background chorus of hyena. We were quite sure they were next to our tent, and for just a moment wondered if canvas was really a deterrent, but we soon learned to crave, once again, this adrenalin rush, this time from nearby lions.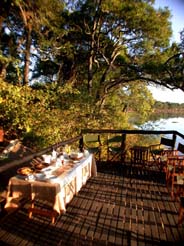 We spent the next 3 days with Manda our guide, and Godfrey, our ranger, on extensive game walks and drives in the cooler morning and afternoons. Although June is winter in Zambia, by 11 AM it gets well into the 80s, so it is best to do your activities before it gets too hot. After 3 - 4 hours in the bush, we spent the heat of the day on the raised deck around our tent watching the hundreds of animals that came to the lagoon to drink:herds of impala, troops of baboons, crocodiles, elephants, water monitor lizards and hundreds of Jacanas with their young.

We would suggest those planning a visit to South Luangwa spend at least one week with 3 nights at 2 of the Bushcamps properties, or if you like to move around 2/2/2. There are four camps to choose from, so you can be flexible, but for sure at the end you will want to be back at Mfuwe Lodge at the end, so you are closer to the airport, which is still a 45 minute drive away. It is much too far to drive from the remote camps to the airport in time for a morning flight. And you could easily be delayed by a herd of elephants, Cape buffalo, or a lion with her cubs. The park is for those who really want a pristine and remote safari with a chance to absorb the atmosphere of the bush and this takes time.

Sadly it was time to leave South Luangwa and Zambia. Our flight from Mfuwe to Lusaka left at 8:30 AM, so we opted to spend Friday night at Mfuwe Lodge. It was an excellent choice for the lodge in itself was very nice, made of timber and thatch, overlooking a series of small lagoons. From our deck we could watch more baboon and a pesky vervet who moved on to our veranda watching our every move and trying to steal our beer. Our now familiar chorus of hippo continued in the background and we were happy to hear the roar of lions in the night, totally unexpected, but something we had heard every night in each of our camps. Mfuwe Lodge also offers game drives, so there was one last chance to get some photos including herds of giraffe which is a must.

Saturday morning, we had a Continental breakfast by the fire, but weren't too worried about getting to our flight on time, for we were to stop on the way to pick up our pilot, who turned out to be Ryan, once again, this time flying for Airways, the carrier offering regular service between most of the tourist points in Zambia. Our aircraft turned out to be a brand new 20 seater Beechcraft just delivered from the United States still carrying that "new car" smell.

From our US departure to return, we spent 14 days as follows which is a perfect Zambia holiday. Itinerary:
Day 1 Depart USA
Day 2 Arrive Johannesburg, where you are met and transferred to Michelangelo, or Balalaika Hotel.
Day 3 Return transfer to airport, fly Johannesburg to Livingstone, Zambia, transfer to River Club for 3 nights (F/B). Evening sundowner cruise.
Day 4 Morning visit to the falls with walk along the edge and Livingstone Museum, return to the River Club for lunch. Afternoon micro light over the falls.
Day 5 Morning horseback ride, visit to the village, back to River Club for lunch. Afternoon game drive in Ol Mosi Tunyo Park (home to 5 white rhinos) and on the return, meet up with sundowner cruise, float back to River Club.
Day 6 Morning bird walk, cruise back along river, herd of 100 elephant, breakfast. Charter over Vic Falls, Zambezi River, Lake Kariba. Lunch at Mwambashi, afternoon game drive.
Day 7 Morning and afternoon game drives, walks and afternoon tiger fishing on Zambezi River.
Day 8 Canoe down Discovery Channel, 6 hours with stops for walking, lunch on banks of Zambezi River, late afternoon game drive back to camp. Champagne at sunset to celebrate!!
Day 9 Morning game drive, charter from Jeki to Mfuwe. Tea at Mfuwe Lodge, 4 - 5 hour game drive to Chindeni Camp.
Day 10/ 11 Morning and afternoon game drives and walks with excellent guide, Manda (also a good artist).
Day 12 Breakfast and game drive back to Mfuwe Lodge. Tea, afternoon game drive. Overnight Mfuwe Lodge.
Day 13 Return transfer to Mfuwe airport, fly to Lusaka, connect with flight to Johannesburg, connect with onward flight to USA.
Day 14 Arrive USA
Estimated cost per person: June - November $4,250 + airfare from the USA.
---
ZAMBIA LODGES

The River Club: Ten luxury thatched chalets accommodate a maximum of 20 people. The rooms overlook the Zambezi River, and have en suite facilities including a bath, shower, toilet and basin. Two honeymoon suites are available. All the rooms have fans. The main house comprises the dining room, lounge and pub area, and has an interesting library. The swimming pool has a magnificent view over the river for those who wish to relax in the sun. Guests may stay here either under an all-inclusive rate, or on a dinner, bed and breakfast basis.

Game Viewing - Although The River Club is not a game lodge, the Zambezi National Park is located just across the river, and Lion calls can often be heard at night. Rich birdlife is found in the area. Hippo are regularly sighted (and heard) along the river's edge. Fishing is good, with Tiger fishing featuring prominently in the warmer months. Birding in and around the lodge is superb.

The Victoria falls is one of the seven "Wonders of the World" and is arguably the greatest waterfall anywhere. Daily excursions to the Falls are a highlight and boating trips to the Zambezi River's islands provide wonderful activities. Fishing and sundowner trips are offered, as are daily visits to the Mosi~Oa~Tunya National Park for White Rhino and other game. Trips to the Livingstone and Railway Museums and a nearby African village are also offered. Other activities available at extra cost include: white water rafting, river surfing, bungi jumping, abseiling, parachuting, microlight and helicopter flights over the Falls, horse riding, clay pigeon shooting and canoeing.

Mwambashi River Lodge is situated deep in the heart of the Lower Zambezi National Park opposite Chikwenya Island. A sixteen bed, tented camp on shaded wooden decks with their own verandah overlooks the river and island. The focal point of this lodge being the Lower Zambezi River in the National Park provides a venue for varied wildlife activities including game viewing in the park from 4x4 vehicles, canoeing the delightful channels, boating and fishing trips and guided game walks.

Each room is tastefully furnished with the colors of Africa. There are six twin tents and two double tents to accommodate a maximum of 16 people in comfort and style. A spacious thatch open sided 'sitenge' serves as the lounge and dining area with views across the Zambezi River from an extended wooden deck and a cool plunge pool in which to sip cocktails in the heat of day is situated by a mahogany tree on the rivers' edge.

The Bushcamp Company, South Luangwa National Park Chindeni, Luxury Raised Tented Camp Chindeni is situated on the edge of a permanent lagoon with the Chindeni Hills as a magnificent backdrop. Raised on wooden decking, Chindeni's 4 en-suite luxury tents have private decks from which you can view the resident big game or simply enjoy the serenity of the lagoon Each tent has 2 queen-sized beds, hot and cold running water, shower, toilet, double vanities and polished floors.

Bilimungwe, A Luxury Zambian Trails Camp, Bilimungwe is a cool and comfortable camp set beneath magnificent Mahogany trees on the edge of a small plain. The camp consists of 4 reed and thatch chalets with en-suite shower, toilet and double vanities. The rustic dining area and fully stocked bar are constructed on raised decking with views of Bilimungwe's permanent water hole and abundant game. Bilimungwe trails camp is nestled in riverine forest along the picturesque banks of the Luangwa River. The camp consists of four reed and thatch chalets with en-suite showers, toilet and double vanities Each chalet has two queen sized double beds with large mosquito nets and an individual rechargeable lighting system. The rustic dining area and fully stocked bar offer panoramic views of Bilimangwe's water hole and the abundant resident game that it attracts. The thatched dining canopy provides a cool and comfortable environment in which to enjoy this idyllic setting. The surrounding forest of evergreen shade trees form a majestic backdrop for those seeking the unique African experience.

Mfuwe Lodge is a unique lodge in the South Luangwa National Park with 18 luxury en-suite thatched chalets, each with a private decking area that overlooks a lagoon that attracts abundant wildlife and game from the African bush. It is the perfect gateway for safaris going further in to the park.