More Ways to Go on Safari
It has been a while since we were in Southern Africa, so in October it was time to pack our bags and head for three new areas in Botswana, South Africa and Namibia offering even more ways to go on Safari. Our trip started, once again, on the SAA flight direct from New York to Johannesburg. The usual, overnight aloft with a stop in Dakar for refueling.  On arrival the next afternoon (after sorting out lost luggage, which was eventually found)  we walked over to Intercontinental Hotel across the street. It is very easy to navigate around this airport. There were also plenty of ABSC (airport information) helpers throughout the airport to point us in the right direction. The hotel itself is comfortable with no airport sounds in the rooms and the food from restaurant was good. This convenient hotel is highly recommended if you come in the evening and are departing the next morning.
MASHATU. BOTSWANA After a good night's sleep, and a great room service meal,  we made our way back to domestic departures, for the 40 min. SA flight to Pokolwane (used to be "Petersburg" all airport names in RSA have been changed from the English/Afrikaans names). On arrival, we were met by our driver "Arthur" for the 2 hour drive to the Botswana border. It was a smooth transition from Arthur to our driver from Mashatu on the Botswana side and we quickly continued on to camp, crossing over the dry Limpopo River which is the border between South Africa/ Botswana/ Zimbabwe.
Mashatu is completely different from Okavango Delta, the other premier game area in Botswana, which is a  2 – 3 hour charter flight away. By contrast, it is dry bushveld w/ lots of elephants and other plains game. It is the only privately owned land/concession in Botswana, owned by Rattray family (who also own Mala Mala – see our great package combining these properties). It is a total of 75, 000 hectares which equals 150,000 acres (1 "hectare" = 2 acres). The two properties in Mashatu are Main Camp (nicely decorated chalets overlooking waterhole) and Tent Camp (where we stayed), the traditional walk in Meru style tents with wood furniture, reed enclosed  - attached bathroom and open shower. The game was quite good, we saw big herds of elephants, giraffe, zebra, eland, kudu and lots of  birds, but what this area  is most famous for, is leopard. It is pretty much a guarantee that you will see them since it is estimated that there are anywhere from  40 – 80  leopard in the area, second only to Londolozi in the Sabi Sands area of South Africa.
In addition to the regular  game drives, Mashatu is home to several researchers and you have the option of going out with their elephant specialist, Jeanetta Selier, or for leopard, Villiers. If game drives aren't enough, you can also join Paul Grobler for a mountain biking, or a walking safari.  We did all of the above and thoroughly enjoyed the opportunity to add another dimension to our safaris.
One special guest we spent time with at Mashatu was Colin Bristow. Colin is a commercial pilot and professional guide who grew up in Southern African rural wilderness areas and was educated in Zimbabwe and South Africa where he developed a lifelong passion for wildlife, archaeology, paleontology and flying.  Together with Colin, we can put together  Flying Adventures on a Tailormade basis in your own plane with Colin as your pilot and guide combining the best game viewing areas and unique camps. He spends most of his time "out there" on safari and keeps us up to date those special places that are a must. This is truly the best way to get the most out of your African Safari holiday.   See http://www.elcologicalafrica.com
Mounting Biking – Mashutu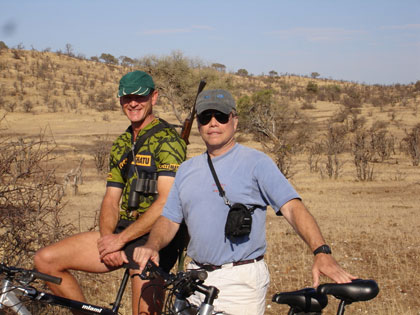 Limpopo Horse Safaris:  While in Mashatu, we also took the opportunity to ride with Limpopo Horse Safaris where we were introduced by  Cor and Louise Carelsen to the amazing Boerperds . Louise's job is looking after and schooling the horses, training the grooms good stable management as well as to ride! Cor guides as well as managing the Tuli safari .
Cor, a native of South Africa, has a diploma in Nature Conservation and has worked as a project manager for a charitable conservation foundation in Ecuador, South America which was dedicated to preserving virgin Andean cloud forests as well as the Estate Manager for a racehorse stud and training farm in England.
During our short visit, we had two fantastic rides in the surrounding area. The game was plentiful and there were several opportunities for gallops on these trusty steeds.  For 2018 are offering scheduled departures exploring the entire Tuli/Mashatu which is (I think) THE best way to see this "Land of Giants" for the experienced rider.
See:  www.lvhsafaris.co.za
"Boots"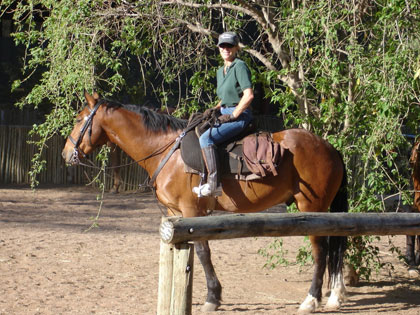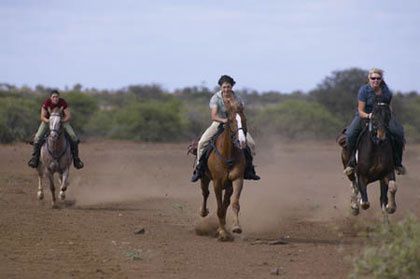 Parfuri: After 3 nights in the Mashatu area, we were returned to the Botswana border where we were met again by Arthur. The drive to Parfuri from the South African border was 3 hours, again very interesting passing from dry scrubland to valley's full of Baobab trees.  After an hour, we reached crossroads to Tzanzeen which is beautiful region in the Drakensburg area of  Mpumalanga where Coach House, Cybele Forest Lodge are located. The drive from there to Parfuri is about 2 hours.
Parfuri is in the northern most part  of Kruger, on the border to Zimbabwe & Mozambique. It is part of the new "Transfrontier Park" which someday will allow you to easily visit this vast game area. Parfuri has been open since July 2005 and is located right on the Luvuvhu River teeming w/ game, especially TONS of elephants. Apparently by March they are gone for a while, but we saw loads every day along w/ Cape Buffalo, Kudu, Eland, etc.  and something new for us Nyala. Also very good birding. Our guide was Simon and each day started with a drive along the river to a point where we could get out and walk. Simon told us of finding elephant dung way up on an escarpment an sure enough took us there the next day to a place where we could barely walk. We are still scratching our heads thinking of those huge majestic animals being so nimble as to clamber around on those cliffs.  
We heard lions every night and one day we were amazed to see a large male crossing the river, from way up on one of our vantage points. There are no giraffes, or zebras to speak of, so this camp must be combined w/ another game area (Mashatu and Sabi Sands) to get the full game viewing experienced, but it is not to be missed.  We walked every morning and did afternoon drives and every day on the way back to our tent had elephant, buffalo and kudu right outside our walkway so had an extra "activity" without going anywhere.  The camp has 20 luxury tents and service was outstanding in keeping with quality of the other Wilderness Safaris camps we have visited.  For 2018, they are also offer an excellent value in their walking trails camp – 4 days and 3 nights, starting at $495 per person. See www.wilderness-safaris.com
"Game viewing" from our room: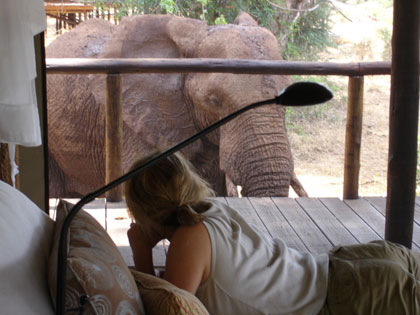 Windhoek: After 3 nights at Parfuri, we left for Namibia. The first leg was a Sefofane charter from Parfuri airstrip to Phwalaborwa airport. It is a scheduled "in seat" charter which saves about 2 hours of driving. Once in Phwalaborwa we got on SA flight to Joburg  (1 hour flight) where we then connected to Air Namibia for Windhoek. On arrival, we were efficiently met by a Wilderness driver who took us to Hotel Heitenzburg. This beautiful small luxury hotel that is part of the Relais Chateau group. We had an excellent dinner for about $40 including cocktails, starters, main course, a few glasses of wine and desert for two.
Serra Cafema: The next morning, we were met again by Wilderness and taken to Eros (domestic) airport for flight to Serra Cafema. The 3 hour  flight took us over most of Namibia and is an experience unto itself – seeing this fascinating vast country from the air.  Serra Cafema, which gets it name from one of the highest mountain in Angola,  is just across the Cunenene river from camp. It is the most remote camp in the Wilderness group and we both agreed  probably THE most dramatic setting we have ever seen. The 1 hour drive to camp from the Hartmann Valley airstrip passes endless miles of red sand dunes, giant mountains of granite, in fact every  geological formation you can imagine. From the mountains, you drop down into the river valley where camp is set in an oasis of green right on the river. You just can't believe the contrast between the red desert, sharp mountains and green water/ river. The luxury tents are right on the edge of the river and we spent 3 days in the company of Ernst  on scenic walks, drives, quad bikes and cruises on the river – visits to the nearby Himba village are also an option. It is a camp for those looking to go to the end of the earth in complete luxury and seclusion.
See www.wilderness-safaris.com
"Tents"   on Cunenene River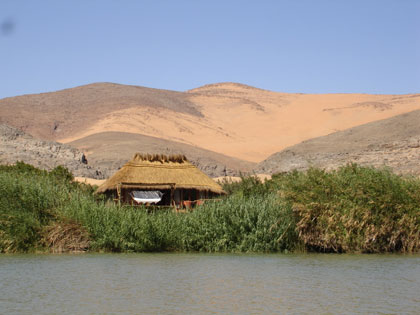 Quad bikes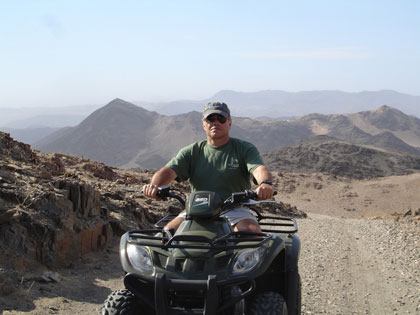 Sadly, after 3 nights at Serra Cafema, it was time to head back via the  1 hour drive to the airstrip, 3 hour (scenic) flight to Windhoek and 2 hour international flight to Johannesburg.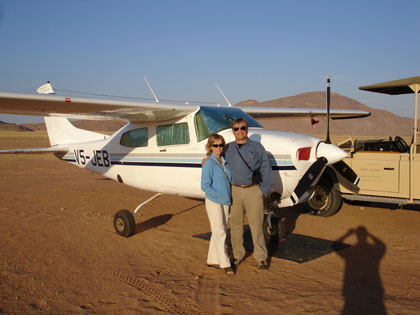 Johannesburg (again) : On arrival,  we were met by our guide Antony "Ant" who happily  whisked us to the luxury Michelangelo Hotel in Sandton and got us through all the extra security  in place as a result of the African Leaders Congress in town. We love this hotel because of its impeccable service and location at the fabulous Nelson Mandela Square Mall teeming with good restaurants and shops.  
SOWETO: The next morning, Ant collected us and took us on a quick shopping excursion to "African Art" and the Kim Sachs gallery and then on to meet Sandi Savadier from Thandeka Africa who takes care of all our clients visiting South Africa. Afterwards we continued on to Soweto, which was fascinating and well worth the trip.  We started in the upscale area (there are some very rich people living in Soweto) and moved on to the middle class and then eventually the "informal" squatters where we spent time with one of the local residents. Housing varied from lovely brick houses, to small cottages to tin shacks. We also visited Nelson Mandela's house, the Hector Peterson Memorial and other points of interest crucial to South Africa's history. All in all, the population of Soweto is about 1 + million people (the entire population of Namibia is 1.2 million) and in some ways not unlike many African villages we have visited, only much larger and right next to the city. We highly recommend it for anyone who has an extra day on their holiday.  It is perfectly safe and gives you an insight into another side of this fantastic country.
Sadly, our 2 week trip came to a close. We returned to New York on South African Airways, this time with an extra delay in Dakar.  The 20 hour journey gave us time to reflect on all the wonderful people we met, Arthur, Simon, Sandi, Ernst, Ant, our guide in Soweto and the staff at Mashatu, Parfuri & Serra Cafema. We have our photos to remember  the beautiful places we stayed and the amazing animals and scenery that we saw. We chose not to have cell phones with us, didn't see a television for 2 weeks and rarely read the paper. It was a true getaway and gave us that special place our minds and hearts that we can go back to again and again.
We are pleased to offer a new itinerary for 2018 combining Mashatu, Parfuri and Mala Mala starting at $3395 per person, or a 4 day/ 3 night walking safari at Parfuri starting at $495 per person. Both prices are land only and transfers are extra depending on your starting point. They are incredible values and well worth the trip.  
End note: As a result of the delays and lost baggage we experienced, which can happen on any carrier, we strongly recommend you hand carry with you any medications, camera equipment, binoculars and a change of clothes with you on board.