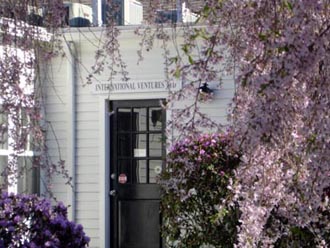 International Ventures, Ltd. is a highly personalized travel consulting service for individuals, families and groups who wish to see and experience East and Southern Africa and the islands of the Indian Ocean. We have put our love of this area and a lifetime of practical experience to work for you. We can steer you to the special places that make this region so appealing; our mission is to design unique trips that exceed our client's expectations.

In 1990, we created our company especially for people seeking more than the usual tourist itinerary. Our clients have in common a desire for a deeper, more rewarding experience involving the diverse landscape, wildlife and people of these fascinating nations. We provide in-depth, high quality, and truly individual service to travelers like you who wish to discover and experience these unique and exciting destinations.

Our service is like no other. Working closely with you, we will design a customized itinerary. Our strength lies in matching your varied interests with the many diverse experiences and activities available. Rather than imposing a predetermined travel plan on you, we give you choices based on your preferences.

Why you should book with us
When you travel with us you will receive the benefit of our expert knowledge and planning skills. We regularly travel to all of our destinations and pay special attention to the details which make a trip most memorable for our clients. This includes regular site inspections to the camps, lodges, and hotels we recommend. In addition, we maintain a toll-free hot line for advise, or assistance, while you are planning your vacation and we provide you with a wealth of useful and interesting information about your destination.

International Ventures, Ltd. is here to bridge the information gap and help you experience, on your terms, the best safari vacation or Ocean Escape that is available. Who you book with does make a difference!
WHO WE ARE:
International Ventures, Ltd. is an owner-operated special interest tour company founded by Margaret Sanko, CTC and Heidi Beaumont. With a combination of over 60 years experience in the special interest travel business, we have a sincere desire and the vast experience to put together the experience of a lifetime for our clients. With a professional approach to developing quality nature tours, and by regularly traveling to our destinations, we are able to offer programs of exceptional value. Our team includes:
•
Margaret Sanko, CTC-Co-Founder
With over 25 years experience in the travel industry in both retail and wholesale travel, Margaret has lived in the Bahamas, Australia and Portugal and has traveled extensively throughout the world. To date she has visited 10 African countries and is a NAUI certified diver. The mother of two, Margaret is our Family Safari Specialist.
•
Heidi Beaumont-Co-Founder
Originally from Washington State, Heidi has over 25 years of management and product development experience in the specialized travel business. Her background ranges from yacht charters in the Caribbean and Mexico to the development of safaris program in Africa and Asia. She travels several times a year to East and Southern Africa and is a is a PADI certified diver and an avid equestrian currently competing in eventing and show jumping. She is our Horseback Safari specialist..
•
Charles B. Beaumont, M.D. - Research and Development
Dr. Beaumont also travels extensively throughout Africa and assists us in site inspections and evaluation of our safaris. In addition to his vast knowledge and experience he contributes his expertise as part of our "site inspection" team, providing valuable up to date information on our ongoing product development throughout Africa and the Indian Ocean.
•
Mike Sanko - Advertising and Promotions
An entrepreneur with many years of advertising management experience, Mike provides invaluable marketing and advertising insight.
•
Judith White, CTC-Travel Agent Liaison
As our travel agent liaison, Judy assists us in understanding what the travel agent wants and requires from a tour operator for their clients.