Southern Africa

Properties visited:
South Africa, Intercontinental Jan Smuts Airport, Tintswalo @ Waterfall, Sandton
Namibia: Hansa Hotel, Swakopmund, Little Kualala, Sossusvlei, The Olive Grove, Windhoek
Botswana: Selinda Camp, Zarafa, Okavango Horse Safaris

With the 20th Anniversary of International Ventures around the corner, we were faced with a real dilemma – how to celebrate this wonderful event with the ultimate safari? Not as easy as it sounds. All of our destinations are magic in their own way. We are often asked, "what is your favorite safari destination" and the true answer is all of them. Each and every one of the game parks, camps, lodges and small hotels that we choose for our clients have their own special charm made even more unique by the individuals who run them. So we made our choice not on "what is the best" but rather on something that would really reflect the amazing diversity that an African vacation can offer. With this in mind, we came up with the ultimate in contrasts – The Deserts of Namibia and the Delta of the Okavango in Botswana, two completely different ecosystems, cultures, climates and experiences and yet a real reflection of the full African Safari experience.

Our September 2009 trip started in Johannesburg in the newly renovated, bright and airy Jan Smuts airport. All of South Africa is abuzz with the upcoming World Cup and the changes are apparent the minute you land. The terminals have been expanded, there are dozens of Immigration desks, so no waiting, new luggage carts (no charge) and if you have nothing to declare, no Customs. The Airport Intercontinental was the first overnight and it continues to be the best airport option. It is also the priciest but you can't beat the location, a 5 minute walk from the Arrivals area.

SWAKOPMUND, Namibia
Day 1: After a good night's sleep, our first flight took us to Walvis Bay where we were met and transferred to The Hansa Hotel in Swakopmund. This old style German hotel is 2 blocks up from the beach offers large rooms, good service, internet, and a delicious room service breakfast. With the German architecture "Swakop" seems more like Europe than Africa, but it is was a great place to rest up from jet lag, walk on the beach, browse through boutiques and enjoy fresh, tasty seafood.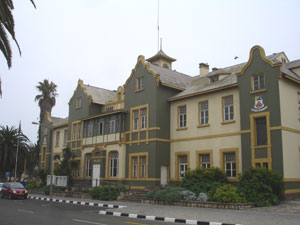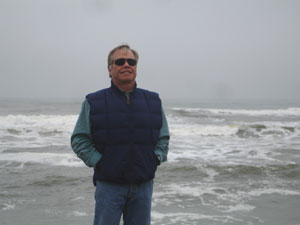 SOSSUSVLEI DUNES, Namibia
www.wilderness-safaris.com
Day 2 & 3 : Another early walk on the beach and then off to the small Swakopmund Airport to meet our Cessna for a flight up the coast and inland to the Sossusvlei Dunes (1 ½ hour flying time).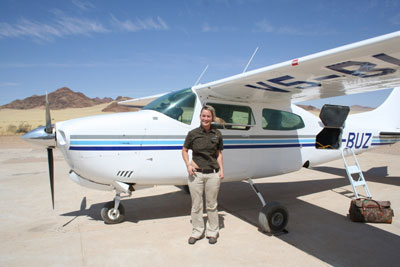 The flight path took us over seal colonies, endless deserted beaches and old diamond mining towns slowly being covered in sand.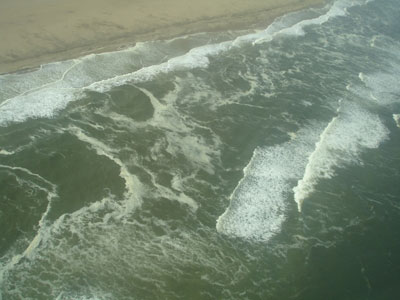 Halfway through the journey the white coastal dunes turn burnt orange as we approached the NAMIB-NAUKLIFT PARK.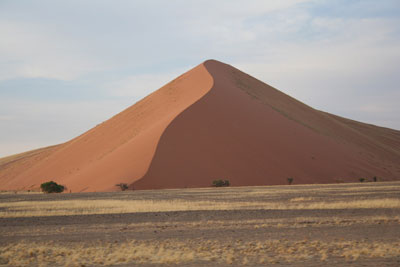 There are no lodges or camps within the park, but many good choices along the perimeter. We stayed at the Little Kuala Lodge (Wilderness Premier camp) enjoying the magnificent starbeds at night, the plunge pool during the heat of the day and the expertise of our local our guide, Willi (who is also a great drummer!).
Other choices in the area include two other Wilderness (Classic) Camps and the magnificent Wolwedans. The highlight of the area is a walk up Dune 45 to get your "dune legs" ready and then the ultimate – up Big Daddy and down into Diet Vlei. We were also thrilled to find a first class riding operation, River Crossing Safaris (www.deserthomestead-namibia.com) who provided us with a lovely evening gallop, sundowners (including an African Wildecat sightging) and starlight ride back to their base camp at Desert Homestead.

WINDHOEK, Namibia
www.olivegrove-namibia.com

Day 4: We had a morning at leisure in camp and headed to reception for our departure where we were unexpectedly met by the entire staff singing and dancing with Willi on drums.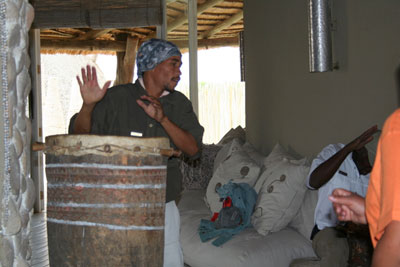 They could easily make a living touring the U.S. instead of being guides, wait staff and maids, but we were glad they weren't discovered yet, so we could enjoy their performance. They even enticed us into a conga line around reception before we left.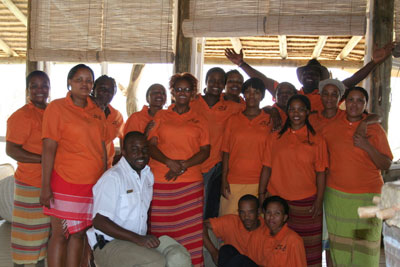 A short flight took us further inland to Windhoek where we spent the night at The Olive Grove, a small boutique hotel offering unusual (minimalist – spa) accommodation and great food.

SELINDA RESERVE, Botswana
www.selindareserve.com

Day 5 & 6: Selinda Camp
Our trip was planned to take advantage of the Air Namib direct flight from Windhoek to Maun (yay – no backtracking to Joburg!) where after clearing Immigration, we were met by Sefofane who whisked us by golf cart to our waiting Cessna.

Maun continues to grow every year. Not that long ago, the departure lounge was a small wooden building with big overstuffed chairs complete with hand made lace doilies (yes, sort of like what you would find in your grandmother's house). They have since made a 2nd and now 3rd larger terminal with a 4th, even larger, terminal planned in the next few years. Sad about the changes, but it is convenient and Tourism has now moved ahead as the #1 source of revenue for Botswana overtaking diamond mining and cattle farming.

The upside of the increasing photo safari business is that the Government has now put an end to Big Game Hunting in the country and so all hunting concession are now leased to non-hunting safari operators. This will expand the safari camps even more.

As we flew out over Maun we were astounded to see floodwaters close to town. Thanks to heavy rains in Angola (the Okavango Delta is the flood plain from those rivers) they are experiencing the highest water they have had in over 30 years which has filled the previously dry Savuti channel and opened the Selinda Spillway. This forces the game into the dry areas so the game viewing was phenomenal. We started to see herds of elephant well before we reached the reserves.

Our first two nights were spent at Selinda Camp a luxury bush camp created by unique powerhouse of partners operating as The Great Plains Conservation Company. It is worth visiting their website to see the wonderful, TRULY "eco-friendly" projects they are undertaking in East and Southern Africa. We put any one of their projects as #1 on our list of recommendations. See: greatplainsconservation.com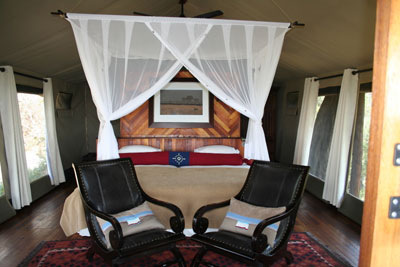 This unique company was founded by five individuals who have pooled their wide ranging skills and experience to create innovative, world-class conservation projects in a number of diverse and threatened habitats throughout Africa, the Indian Ocean and in time in India. They include: Colin Bell the CEO of Great (original founder of Wilderness Safaris) Dereck and Beverly Joubert world renowned filmmakers ("The Eye of the Leopard" and "Eternal Enemies"), Mark Read Chairman of WWF in South Africa as well as the Africa representative on the international Board of WWF in Switzerland and Paul Harris, banker, entrepreneur and owner of the prestigious boutique Ellerman House Hotel (another one of our top picks: www.EllermanHouse.com).

The Selinda Reserve is a 320,000 acre private wildlife sanctuary in the Northern part of Botswana, and what makes it unique is that it is shared by a maximum of 32 guests at any time. Accommodation is in a selection of intimately sized camps.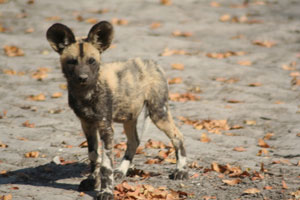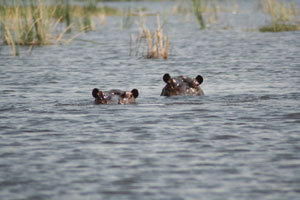 We spent 2 nights at Selinda Camp which was completely rebuilt and re-opened in 2007 to acclaim. It is a small, wonderful, luxury tented safari camp that is situated on the banks of the eastern Selinda Spillway - a waterway that links Botswana's Okavango Delta to the Linyanti and Kwando marshes, rivers and floodplains. The shaded camp is raised off the ground and offers extraordinary views over the floodplains, waterways and wide open savannas which are only broken by attractive palm islands. It is these views that are one of Selinda's most compelling features and hardly a moment went by without animals in front of camp.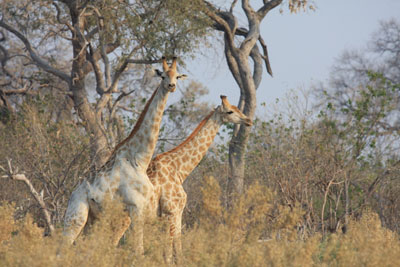 While at Selinda, we had the special privilege of meeting up with one of our favorite clients, Joe, and his private safari guide, Garth Thompson. The two were on a photo extravaganza that got better and better every day.

Day 7 and 8 Zarafa Camp
We were so happy and settled at Selinda Camp that it was with some regret that we said goodbye and got on the boat for a transfer across the spillway to their sister camp, Zarafa. Our journey was slightly delayed by an elephant herd swimming crossing the channel in front of us and the hippos on the shore posing for photo ops.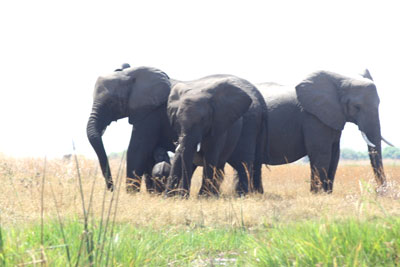 We had heard that Zarafa was "special" but we were not prepared for what awaited us. We have seen hundreds of safari camps and have to say that hands down, this is the most extraordinary "bush camp" that we have ever seen.

This breathtaking camp has four large and luxuriously appointed double or twin "marquis style" canvas tents that accommodate a maximum of 8 guests. Each of the spacious tented rooms is expansive at nearly 1000 square feet and is positioned along the edge of the forests to take advantage of the spectacular view over the floodplains and savannas.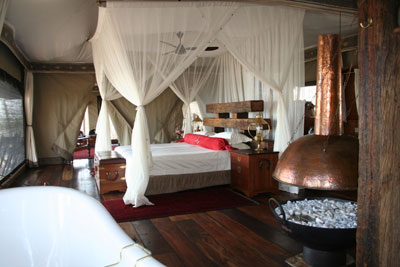 Each tent comprises a spacious bedroom, an en-suite bathroom with copper bath & shower (as well as an additional outdoor shower for those who prefer the outdoors), a comfortable lounge, private pool, a large shady veranda, overhead fans, flowing mosquito nets, and a beautiful handcrafted copper fireplace, strategically placed between the bathroom and bedroom for the winter months. The furniture has been designed and handcrafted by Don Young and his team specifically for Zarafa and is made from recycled ancient hardwoods.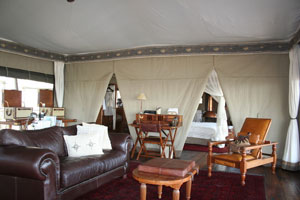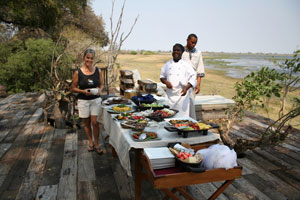 Not only did Zarafa offer world class accommodation, but the game viewing was fantastic, including a few specialties: wild dog and leopard . Activities include game drives and walks.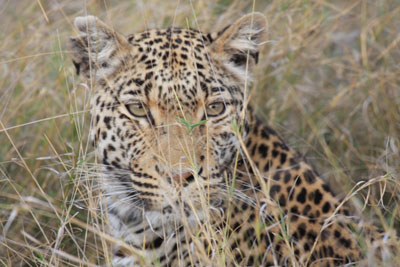 Day 6 and 7 Okavango Horse Safaris
www.OkavangoHorse.com
This time, we truly were sad to leave Selinda Reserve. What could possibly better? But of course, this is Africa and there is always another delight just around the corner.
Sefofane collected us and transferred us onto the Xaxaba airstrip, a short 15 minute ride away. To access Okavango Horse Safaris, we would normally fly to the Xudum airstrip near their camp, but high water covered the roads so instead we landed at a dry strip and transferred to Okavango Helicopter for a birds-eye view of the Delta. Wow!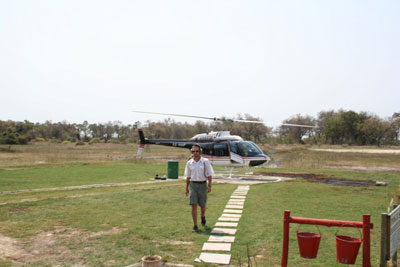 On arrival at camp, we were met by the smiling PJ & Barney and their happy dog Zazu. This is our 4th visit to Okavango Horse Safaris and even though it has been a while, it felt like coming home. There have been many good changes in the camp. The tents have been upgraded, and they have moved their base of operations here, so all 65 (at last count) horses are in residence there.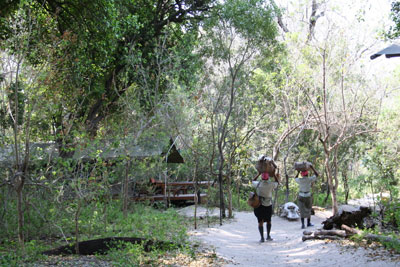 We had lunch in camp and then PJ transferred us by boat to their fly camp at Qwappo for the night. Over the next two days we had a full day ride back from Qwappo including a swim on horseback to Kujwana Camp and a wonderful morning ride on the day we left to see Carmine Bee Eaters nesting in the ground (a rare sight). The area was teeming with game including herds of giraffe, buffalo, lechwe, leopard AND lion sightings. It truly is the Garden of Eden and there is no better way to see it than from the back of a well bred, horse.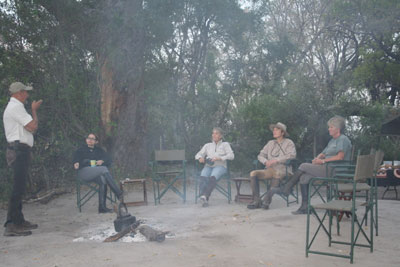 PJ & Barney's Okavango Horse Safaris is the only operation in the entire concession which allows you to truly enjoy all that that the Delta has to offer.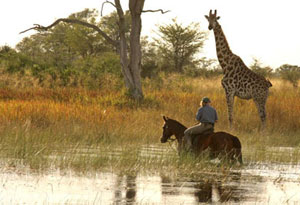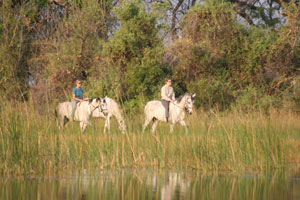 The team behind PJ & Barney include: Ntesang Mothanka (Person/Percy): Assistant manager, Sarah Humble: Marketing, Reservations and General Manager, Mary Seselamarumo: Office Manager, Maun, Rodgers Tirelo: Guide, Gaolape Bachae: Guide, Tirelo Nxannekhwe: Guide, Koshunda Dodo: Household and Catering Manager, Tembwe Moya: Head Groom and Debbie Logan: Freelance Horse Trainer and soon to be Mali Horse Safari Guide.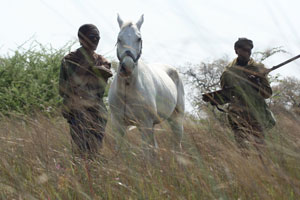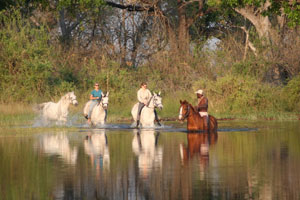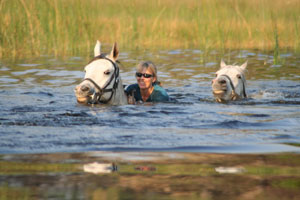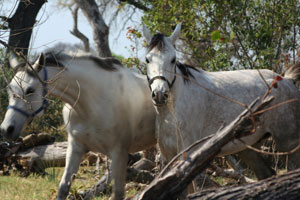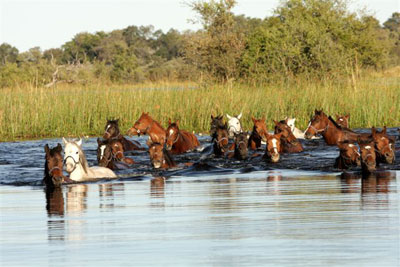 Day 8 Depart
Sadly, it really was time to leave the Delta and Okavango Horse Safaris. All too soon, we were back in Maun, Joburg for overnight, KLM to Amsterdam, New York and back home. We had travelled by jet, prop plane, helicopter, speedboat, mokoro, on foot and on horseback. We met old friends, made new friends and as always saw amazing things every day. We look forward to another 20 years and can't wait to go back.