Northern Tanzania & Zanzibar
Trip Report August 2006
by Margaret Sanko, C.T.C.

Margaret Sanko, CTC accompanied by our "family safari specialists", Steve age 14 and Allison age 10, and "Grandma" Judy White.

It had been years since I had visited Tanzania and I was excited to see first hand the positive infrastructure and accommodation improvements I had heard so much about. I was not disappointed! Tanzania now offers something for everyone, from 5 star luxury lodges & camps to the more reasonably priced larger lodges & tented camps, and there is now an efficient flight circuit to link the various game parks. Our family safari vacation included the Northern Tanzania highlight areas of Arusha, Ngorongoro Crater, Lake Manyara, the Karatu region and Tarangire. We also spent time on the fascinating island of Zanzibar.

I mention in the following the hotels lodges, camps we overnighted. But in addition we visited dozens more, many highly recommended. Since our safari included the site inspections, we drove (with our private driver/guide, Amos) instead of taking advantage of the quick, efficient flights.

Our vacation started onboard KLM via Amsterdam through to Dar Es Salaam. A late arrival and early departure from this coastal city brought us then to Zanzibar. This was our first visit this exotic Island. Our stay at the reasonably price and family friendly Mbweni Ruins hotel could not have been better. We had the chance to enjoy the swimming pool, fresh sea food meals served in an open air dining "room", beachcombing, and view the most incredible sunsets. A full day with a driver/'guide allowed us to see much of the Island, including numerous hotels &resorts (something for everyone here, from the most romantic bungalows, full service resorts, small locally run hotels). The guided tour of old Stone Town was fascinating, the Island steeped in history I had simply not been aware of. And of course, Zanzibar Island is know as the "spice island"; another eye opener for us as we learned where peppercorns, cinnamon & cloves actually come from!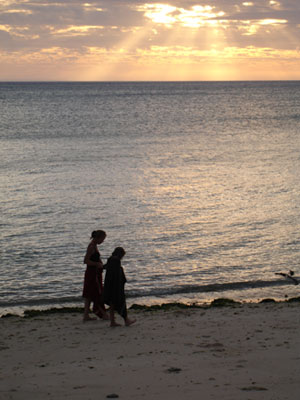 After a few days on Zanzibar and it was time to fly to Kilimanjaro. Our stay was at the lovely KIA lodge, located right next to the airport, best for those arriving late in the evening and for final dayroom, overnight accommodation. The Arusha area offers numerous lovely hotels and Arusha National Park is worth visiting. Here you can take a hike with a local ranger, a great chance to stretch your legs.

Another reason we had chosen Tanzania for this trip was Steven had been invited by some dear friends to climb Mount Kilimanjaro. (planned for one of the participants as a "big" birthday celebration vacation). Steve departed with the small group on their 7 day climb.

Mom, Allison and I then departure for Lake Manyara National Park, a relatively small Park tucked between the Rift Valley escarpment and the Lake itself. Wonderful lodges located high on the escarpment, with incredible views. We stayed at Kirurumu Tented Camp, which offers huge tents, a chance to get the "under canvas" feel, but with all the comforts of a deluxe room.

We continued onto Karatu, a area located near Ngorongoro Crater. It is not a game viewing area; rather one can take a "break" and enjoy visiting a coffee plantation, tennis, horse riding, guided nature walks, bird watching, relax by the swimming pool. This area is also used for accommodation when the Ngorongoro Crater lodges are full – which is becoming increasing common during the high peak (summer) season. We stayed at Gibbs Farm, the "original" in this area, with our favorite gift shop.

Prior to our departure for Tanzania, we had been told about the Rift Valley Children's Village, a home for orphaned children, run by an American woman named India Howell. We had learned they were in need of warm clothing, school supplies, and had collected donations, most notably from a children's boutique clothing store, The Lollipop Guild, located in Wilton Center (CT). We drove miles from the main road, seemingly into nowhere, where we came upon the Village. Here we were greeted by the most beautiful children; the most incredible smiles. Very contrary to what I had anticipated, our visit was a very positive experience; one of the highlights of our trip. I highly recommend to anyone who is interested in making a big difference in the lives of children to contribute to this worthwhile organization. Details can be found at: www.tanzanianchildrensfund.org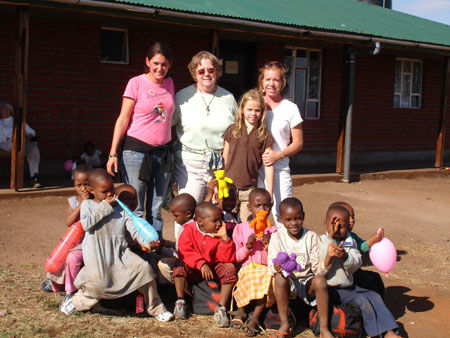 Then off to Ngorongoro Crater, a world heritage site. We were visiting in highest peak season, not a room to be had (remember make your reservations early!), and I was interested in seeing first had, how this area could support the "hoard" of tourists. I am happy to report, this vast area is still able to offer one of safaris' most breathtaking views, and interesting game viewing with it's large permanent concentration of wild animals. Yes, you can expect "rush hour" at the main road down, and back up again. But we enjoyed a day full of incredible animal and bird sightings, along with a delicious picnic lunch. Our stay was the CCAfrica's Crater Lodge. The most luxurious lodge in this area, each room more like a "villa" complete with your own butler service, delicious (formal) dinners. Highly recommended for those willing (& able) to splurge.

Our next stop, Tarangire National Park for elephants, elephant, elephants! We lost count after viewing over 100 on one of our game drives. An incredibly scenic park with the Tarangire River running through it. Our stay at the Targanire Sopa Lodge was very comfortable; Allison really enjoyed the huge swimming pool and the big buffets at meal time. A great chance to "mix-up" the accommodation, keeping in mind the goal is to keep everyone (all ages) happy on a family safari.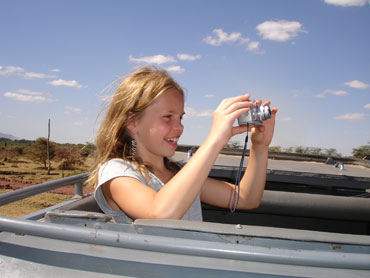 Just outside of Tarangire is Treetops Lodge. Stunning, huge rooms literally build in enormous baobab trees. Very unique, great honeymoon, romantic couple/anniversary trip choice. We so enjoyed our surroundings we opted out of game viewing, although all is offered here: game drives into Tarangire, night game drives and even game walks. Instead we enjoyed reading on our deck, tea time in the lovely reception area, the small "infinity" pool (overlooking a waterhole) and the most delicious meals.

Sadly, it was time to leave the bush and head back to Arusha. On the way we stopped for some "last minute" shopping at one of the very big, very touristy curio shops in Arusha. Here you can find anything for your souvenirs and gifts (think stocking up on your Holiday gift shopping); beautiful Masai beadwork, wooden sculptures, true African art (including antiques), gem stones (including Tanzanite).

We met back up with Steve and the Kilimanjaro climb group and I am very happy to report, they all made it to the summit of Kilimanjaro, over 19,000 feet. (Steve being one of the youngest to ever accomplish this feat).

Our final night was at the beautiful Arusha Coffee Lodge. A wonderful way to end an incredible adventure.

In summary, I would not hesitate to recommend a Tanzania safari vacation to anyone! In addition to the areas mentioned above, let's not forget about the incredible Serengeti, and the lesser known Parks in the South: Ruaha & Selous. There's even chimpanzee trekking in Mahale Mountains. Contact International Ventures Ltd. today and let us plan your Tanzania family, honeymoon, "big" birthday or anniversary celebration vacation, maximum animal game viewing, Kilimanjaro climb and/or walking safari!